Mandel's Dreamery

On view: August 14, 2016-October 30, 2016
402 College St.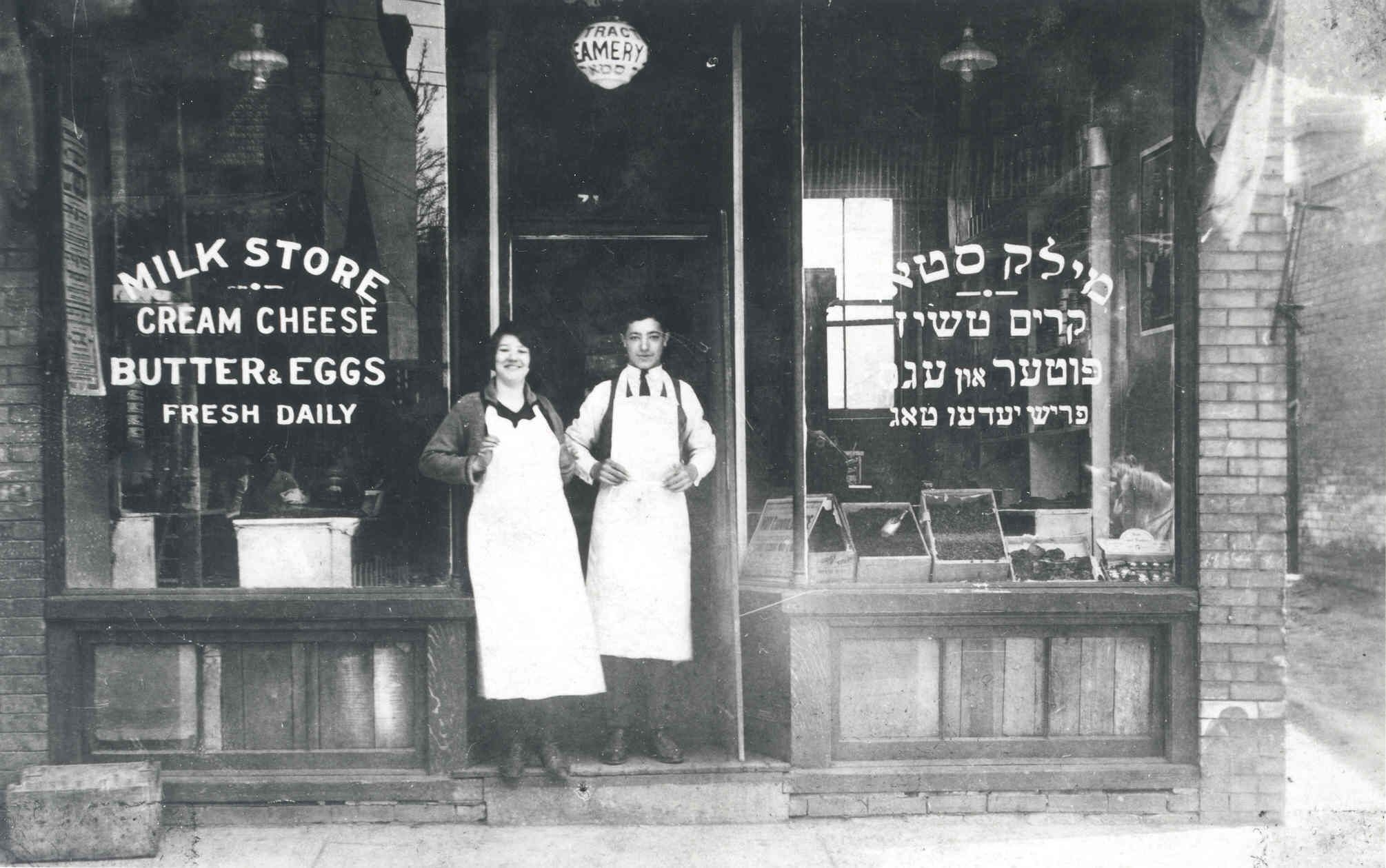 The Ontario Jewish Archives, Blankenstein Family Heritage Centre partners with the Ashkenaz Festival and Fentster (Yiddish for window), a newly opened exhibition space at 402 College Street (just east of Bathurst St) located in the storefront window of the Jewish organization, Makom.
Viewable from the street during the day and night, the installation is a playful and evocative recreation of a Jewish storefront. It features Yiddish lettering on the window that references the signage of Mandel's Creamery, which operated nearby at 29 Baldwin Street from around 1915 through the late 1970s. Even when the Creamery was sold to John's Italian Caffe, the hand-painted lettering remained on the glass throughout the years, becoming an iconic neighbourhood spot that represented the commingling of two distinctive Toronto food cultures. The signage is actually a mix of Yiddish together with English words written-out in Yiddish letters – what is often referred to as "Yinglish". When John's Italian Caffe closed last summer, the Ontario Jewish Archives intervened (with the assistance of Milton Mandel and his family) to save the window and it is now part of their collection.
The original sign announced: "Butter, Cheese, Cream, Eggs: Fresh Every Day." As kosher foods are no longer available "fresh every day" in this part of town, in Mandel's Dreamery at 402 College Street, the hand-painted sign now reads "only memories," also in Yinglish. The backdrop is a 1925 photograph of Trachter's Milk Store that was located at 71 Kensington Avenue and had a similar hand-painted Yiddish sign on its window. Art Cooper stands in front of the store with his sister Becky who was married to Harry Trachter (OJA #2947). This window installation reflects this once vibrant Jewish neighbourhood and Toronto's ever-changing culinary and cultural landscape.
A hundred years ago, the surrounding streets were filled with kosher butchers and bakeries, poultry sellers, fish dealers, dry goods stores, grocers and delicatessens. These food businesses were owned and operated by Jewish immigrant families who left hardship and persecution in Eastern Europe, settling in the area around Kensington Market in the 1910s and transforming it into a bustling centre of Jewish life. By 1931, 80% of Toronto's Jewish population of 45,000 lived around Spadina Avenue, establishing businesses, synagogues and organizations.
At 350 College Street, Wellts' Delicatessen served up 5-cent pastrami sandwiches during the Depression. The Perlmutar Bakery at 193 Baldwin Street was best known for their onion buns and rye bread. A hub for community members, United Bakers made Sarah Ladovsky's original recipes of Jewish dairy classics like blintzes and homemade soups.
The Jewish shops and restaurants of Kensington Market and College Street are now only memories of an earlier era. After World War II, the Jewish community began migrating north to the suburbs. Downtown Jewish life, however, is once again vibrant in this part of Toronto. Familiar flavours of the past can be tasted along this busy downtown strip. This storefront is now home to the grassroots organization, Makom and the gallery, Fentster. A few blocks east on College, Jewish fare is chief at Free Times Café and Caplansky's Deli. Several nearby synagogues established by the early immigrants remain active until today while newer synagogues and independent Minyanim like Makom have also developed through the years.
On view 24/7 through October 30, this installation is a partnership between Fentster, UJA Federation's Ontario Jewish Archives, Blankenstein Family Heritage Centre and the Ashkenaz Festival. It is timed to coincide with the Ashkenaz Festival taking place from August 30 to September 5, 2016, at Toronto's Harbourfront Centre and other venues across the GTA. This year the Festival is highlighting the food culture of Eastern European Jews as part of its weeklong Yiddish and Jewish culture festival.
Mandel's Dreamery opens on August 14. There will be a free public reception on Monday, August 29 from 5 to 8 PM. Fentster is located at Makom, 402 College Street in Toronto.
Curated by Evelyn Tauben (Fentster) and Dara Solomon (Ontario Jewish Archives)
Presented together by Fentster; Ontario Jewish Archives, Blankenstein Family Heritage Centre; and Ashkenaz Festival