Our Collections
The OJA's records span all segments of Ontario's Jewish community. We have records from businesses, families, labour unions, organizations, and synagogues. These records date from the community's earliest days to its present. What's more, they come from all over Ontario and in every format you can think of. If you were to lay out all of our boxes, they would stretch from the foot of Yonge Street to Dundas Square!
Below you can find highlights from our newest acquisitions as well as collections that have recently been processed and added to our website search.
Do you have records to donate to the OJA? Click here to learn how.
Acquisition of the Month
February 2023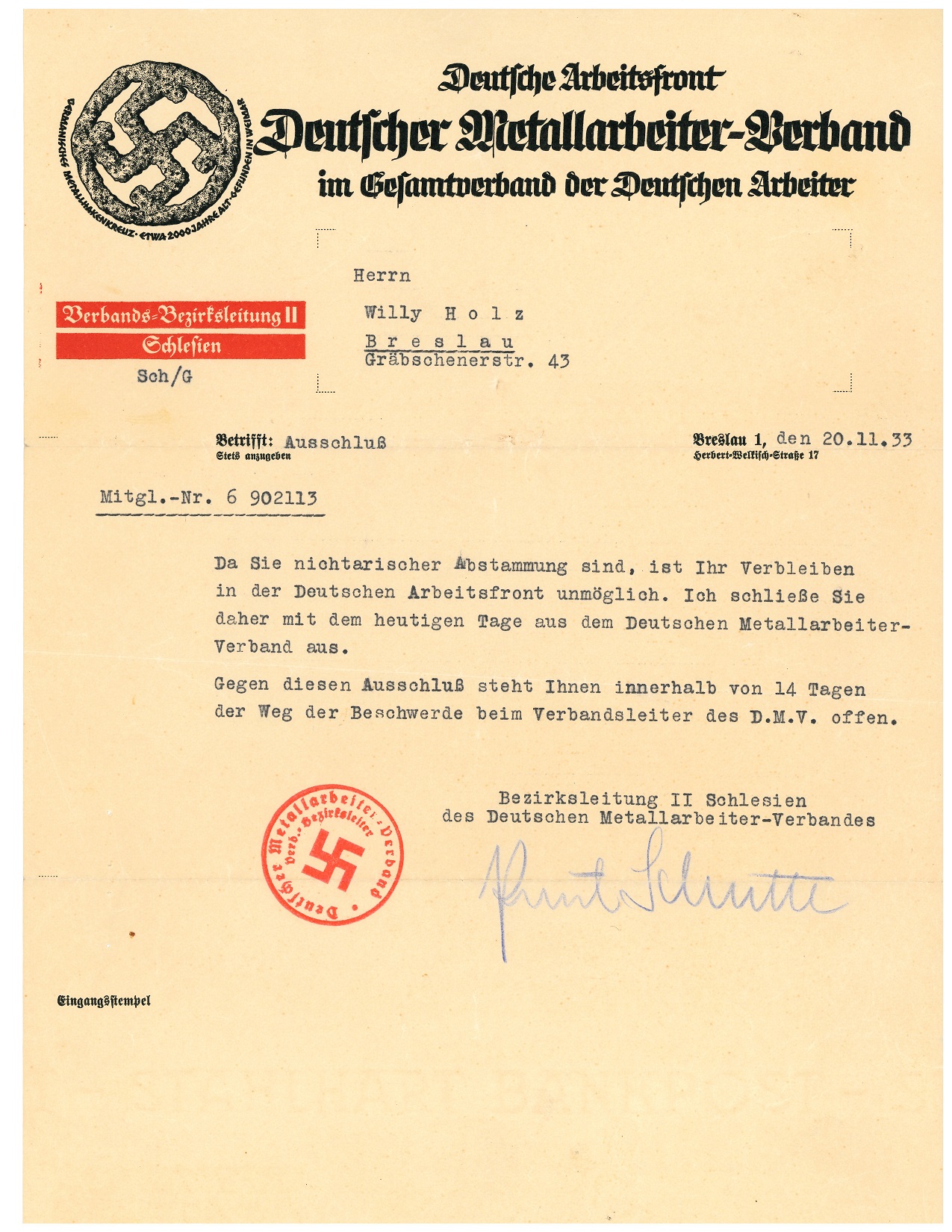 In February, Camile Norton donated the records of her step-father, Willi Holz, to the OJA, and boy do those records tell a fascinating story!
Willi was born in Breslau, Germany, in 1912. He attended elementary school and technical high school in the city and worked as an electrician at several firms. In 1933, Hitler's National Socialist German Workers' Party came to power and the trajectory of Willi's life, along with millions of other Jews, was sent on a a completely different trajectory. Shown left is a letter the German Metal Workers' Union sent to Willi (here spelled Willy) expelling him from the union because he is of nichtarischer ("non-Aryan") descent. The letter is dated 20 November 1933.
The above letter is only one of fifty-some records in this small but rich collection. Also included are Willi's diary, his German passport, a postcard from Palestine, the chronicle of Camp "L" (where Willi was interned), and personal correspondence. Taken together, these records tell the story of Willi's experience before, during, and after the Second World War, including his failed attempts to leave Germany for Palestine, Bolivia, and China; his tranfer to a camp for Jewish emigrants in Richborough, England; his eventual transfer to Quebec, where he was interned at Camp "L"; his transfer to Camp "N" in Sherbrooke, Quebec; his eventual release; his move to Toronto; and his path to Canadian citizenship, which he received on 4 May 1946. Willi's remarkable story came to an end on 10 October 1979. His funeral took place at Benjamin's Park Memorial Chapel.