Our Collections
The OJA's records span all segments of Ontario's Jewish community. We have records from businesses, families, labour unions, organizations, and synagogues. These records date from the community's earliest days to its present. What's more, they come from all over Ontario and in every format you can think of. If you were to lay out all of our boxes, they would stretch from the foot of Yonge Street to Dundas Square!
Below you can find highlights from our newest acquisitions as well as collections that have recently been processed and added to our website search.
Do you have records to donate to the OJA? Click here to learn how.
Acquisition of the Month
September 2023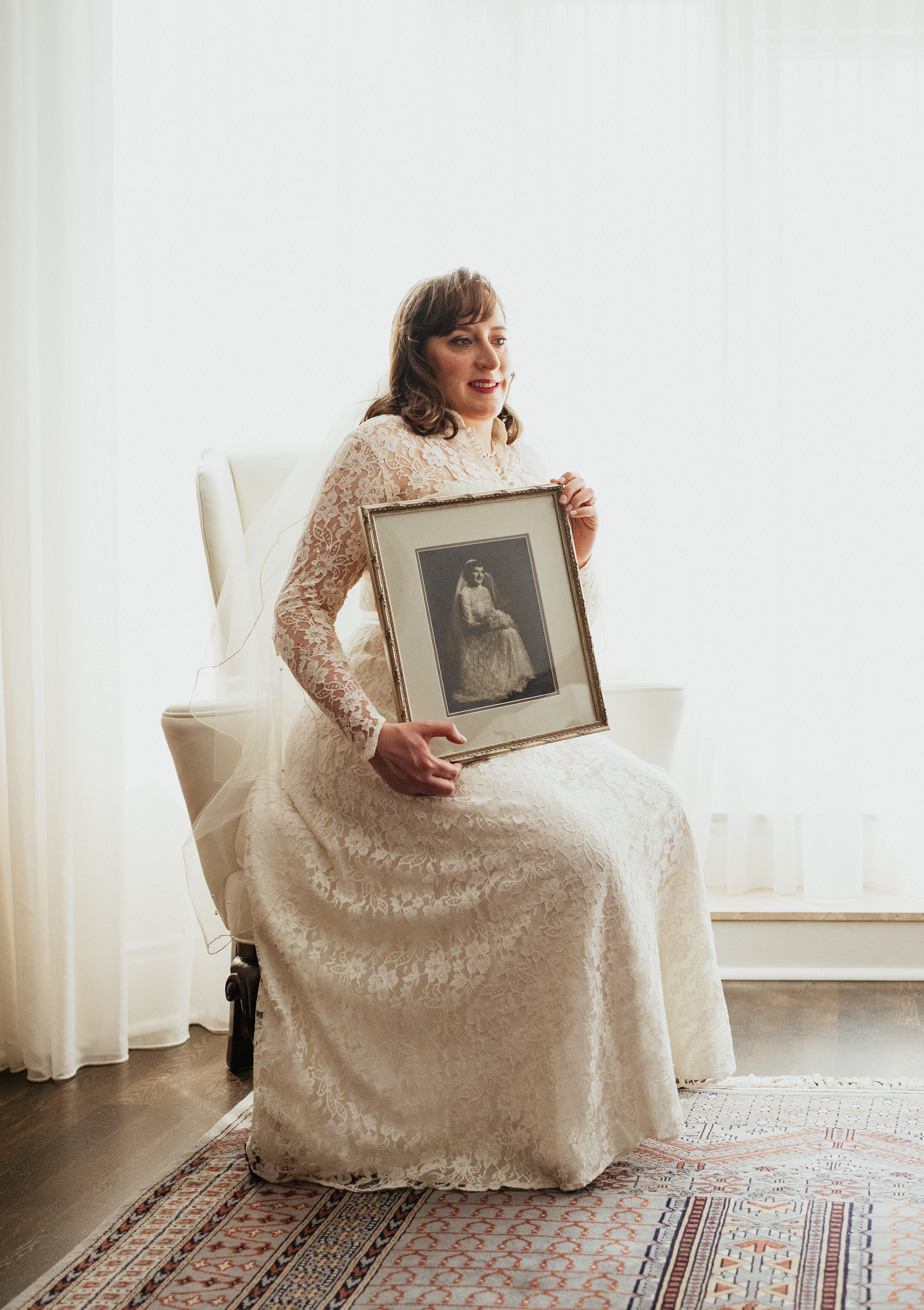 On 21 May 2023, Samantha "Sam" Mogelonsky married her longtime partner, Matthew "Mat" Calverley. What was notable about the wedding was Sam's choice of dress. Instead of purchasing a brand new dress, as is common, Sam wore the dress worn by her grandmother, Lila Brownberg, in 1950. A contemporary description described Lila's outfit this way: "The bride wore a Dior model instep length jacket dress of white Chantilly lace over slipper satin. The skirt having a full flare which extended from a smooth hipline. The fitted jacket buttoned to the neck with tiny self-covered buttons. The neckline was a mandarin style and the long sleeves finished at wrist with matching buttons."
When she married in 1986, Sam's aunt, Marcia Mogelonsky, chose to wear Lila's dress. Sam continued the family tradition in 2023. First, though, she had to have the dress cleaned. The dress thus underwent a textile conservation process. After that, it was sent to the bride-to-be's tailor, Vintage Bride, who "magically altered" the dress. And while the dress was kept essentially the same, Sam made a few alterations of her own, noting "I added the little belt for some bling, and I chose to wear the collar open, as it was May and warm." In the photo to the left—taken by Wade Muir—Sam is seen wearing the dress while holding a framed portrait of her grandmother in the same dress.
In addition to this one photo, Sam donated twenty other photos from the wedding. The OJA is pleased to receive these and help document a special family tradition that's now been brought to life by three generations of women.