2022 Acquisitions
July 2022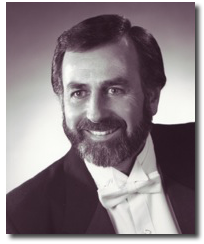 Paul Kowarsky is a man of the world. Born in South Africa, his musical studies have taken him to Tel Aviv, Johannesburg, and Cincinnati, while his work in voice production has taken him to New York and Toronto. From 1980 to 2001, he served as hazan (cantor) of Canada's largest Conservative congregation, Beth Tzedec. In addition to his work as a hazan, he served as a presiding justice of peace in the Ontario Court of Justice. In July 2022, the OJA was able to acquire a significant volume of records documenting Cantor Kowarsky's career. These were picked up directly from the cantor's residence. Included in the donation are the cantor's musical commisions, personal CDs, and recordings by his children.
June 2022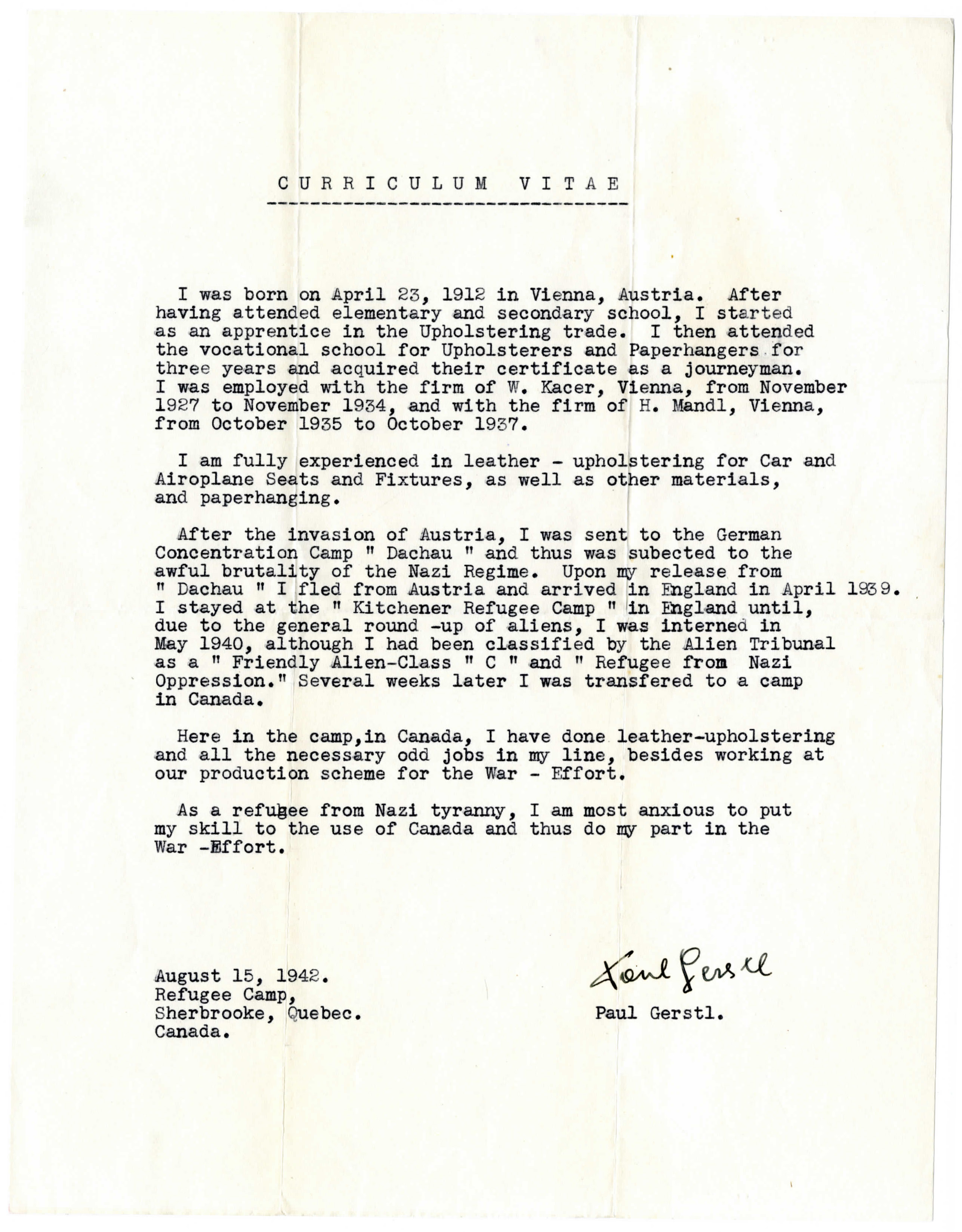 July's acquisition documents Katherine "Kathy" Sharon Gerstl and her family. Kathy was born in 1955 to Paul Gerstl and Goldene Gerstl (née Sniderman). She was a dietitian, having obtained her degree from Ryerson Polytechnical Institute and done her internship at Toronto General Hospital and St. Michael's Hospital in Toronto. Her father, Paul, was born in Vienna, where he worked as an upholsterer. Detained in Dachau in 1938, he fled to England upon his release, arriving in England in 1939. In May 1940, he was interned; several weeks later, he was moved to a refugee camp in Canada, only being released in November 1942. The document shown here is Paul's curriculum vitae, which touches upon his wartime experiences; it also touches upon some of the work he did in Canada, including leather upholstering and various odd jobs.
May 2022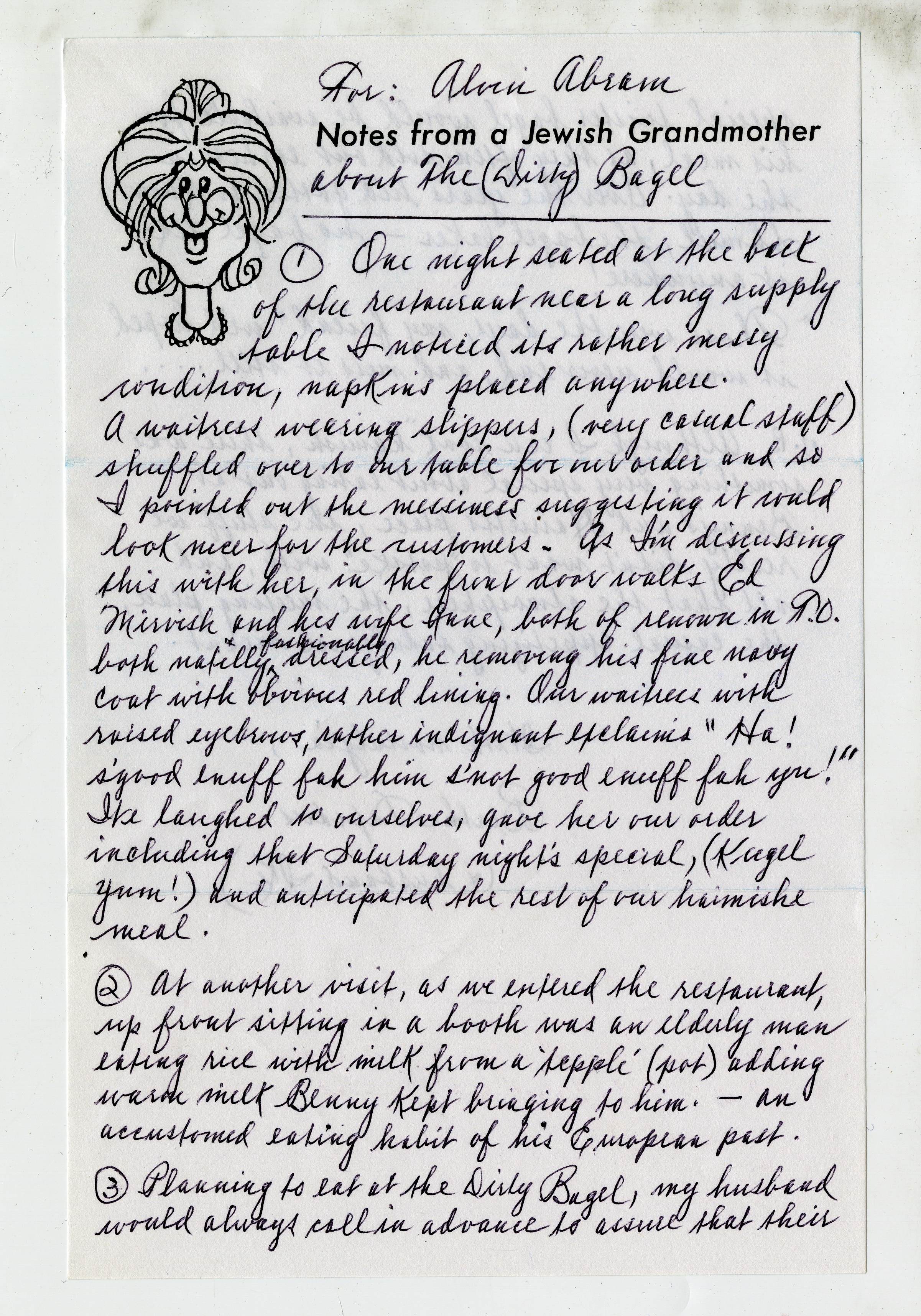 Author, writer, and family man Alvin Abram (b. 1936) passed away on 26 August 2021. And while Alan is dearly missed by his loved ones, the OJA is pleased to be able to preserve a piece of his literary legacy with this donation that arrived on 11 May 2022 from Alvin's daughter Lisa. The donation consists of material documenting Alvin's research on the restaurant known as "The Dirty Bagel." Included in the donation are photographs of the interior of the restaurant taken by Lisa, handwritten testimonials by patrons, and a binder of Alvin's research notes. Shown here is a note relating a story about the restaurant's messiness, which did not prevent famous Torontoinians like Anne and Ed Mirvish from patronizing the business.
This is not the first donation to arrive which documents Alvin and his interests: in 2016, Alvin donated 35 cm of textual records, 5 cm of photographs, and 1 VHS tape documenting his family history and publishing career. Several more donations followed in the years to come.
April 2022
In April, Mark Drutz donated materials documenting the Drutz-Quitt family. Included in the accession are some sixty photographs documenting various festive occassions (birthdays, weddings, Pride parades) and important people and four-legged friends in Mark's life. (As a dog lover and English major, this archivist particularly delighted in learning Mark had named one of his dogs Virginia Woof!) These photographs are complemented by several folders of textual records, which document Mark's professional life and activities outside work. Of note is a Ha Mishpacha newsletter from November 1977. (Ha Mishpacha was the first gay-Jewish group in Toronto, and Mark was a founding member.) And while the accession is full of photographs of happy times, such as Mark's exchange of rings with his husband Jonathan Lau, it also documents sadder moments, including his late brother Paul's battle with AIDS. The OJA is all the more pleased to receive this donation, since it is one of the OJA's first to document a Jewish LGBTQ family.
March 2022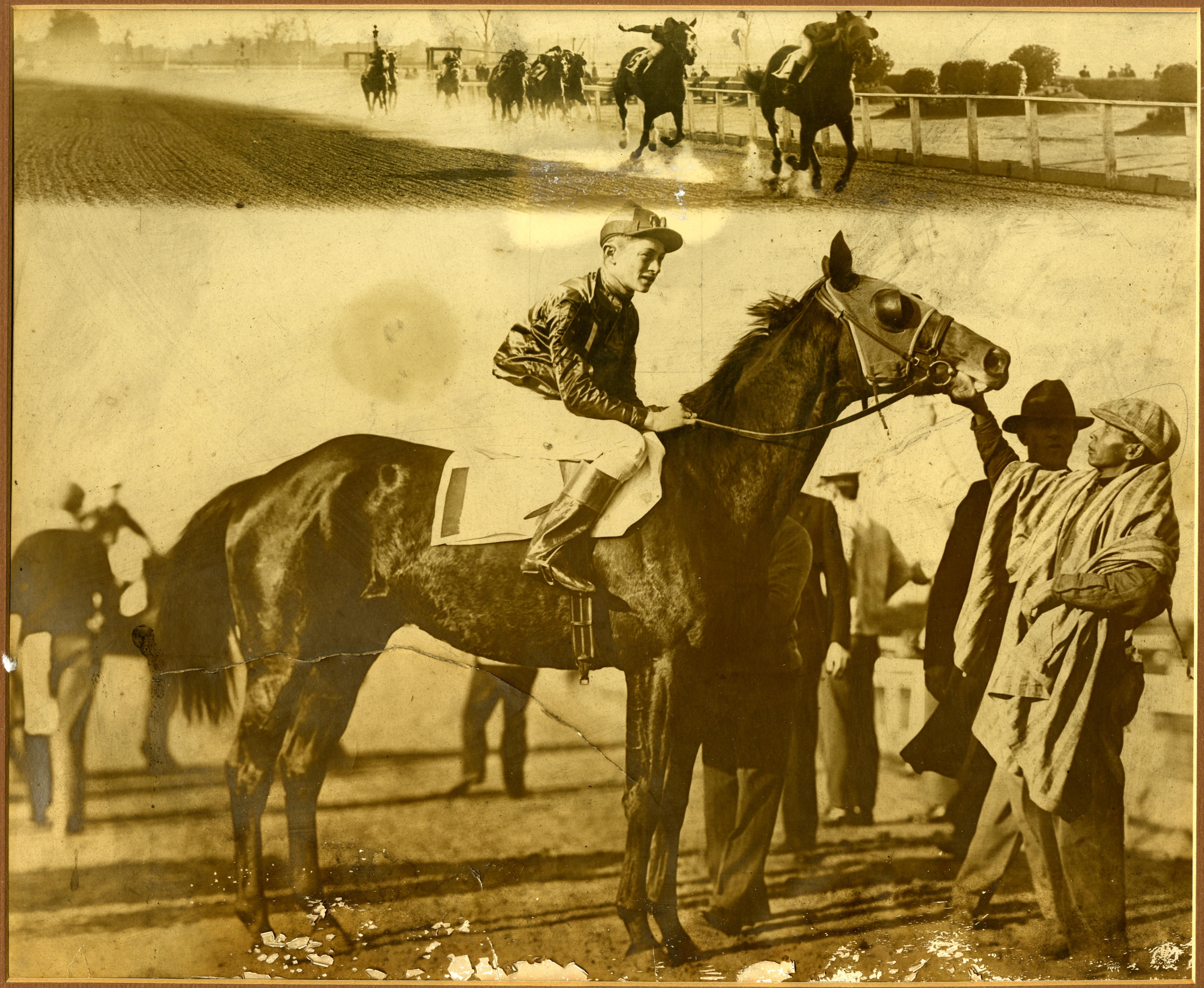 Among its collections, the OJA has records documenting a range of professions: architects, boxers, lawyers, nurses, physicians, photographers, rabbis, teachers, and many more. One profession it did not have records for was that of jockey—that is, until now! Morris "Murray" Rose was born in Poland came to Canada as a youngster. Instead of completing high school, Murray ran away from home and became a stable boy before becoming a jockey. After suffering a serious head injury, Murray retired from horse racing and went into business. The records, which were donated by Murray's daughter-in-law Roz, includes four photographs of Murray, three of which show him atop horse.
February 2022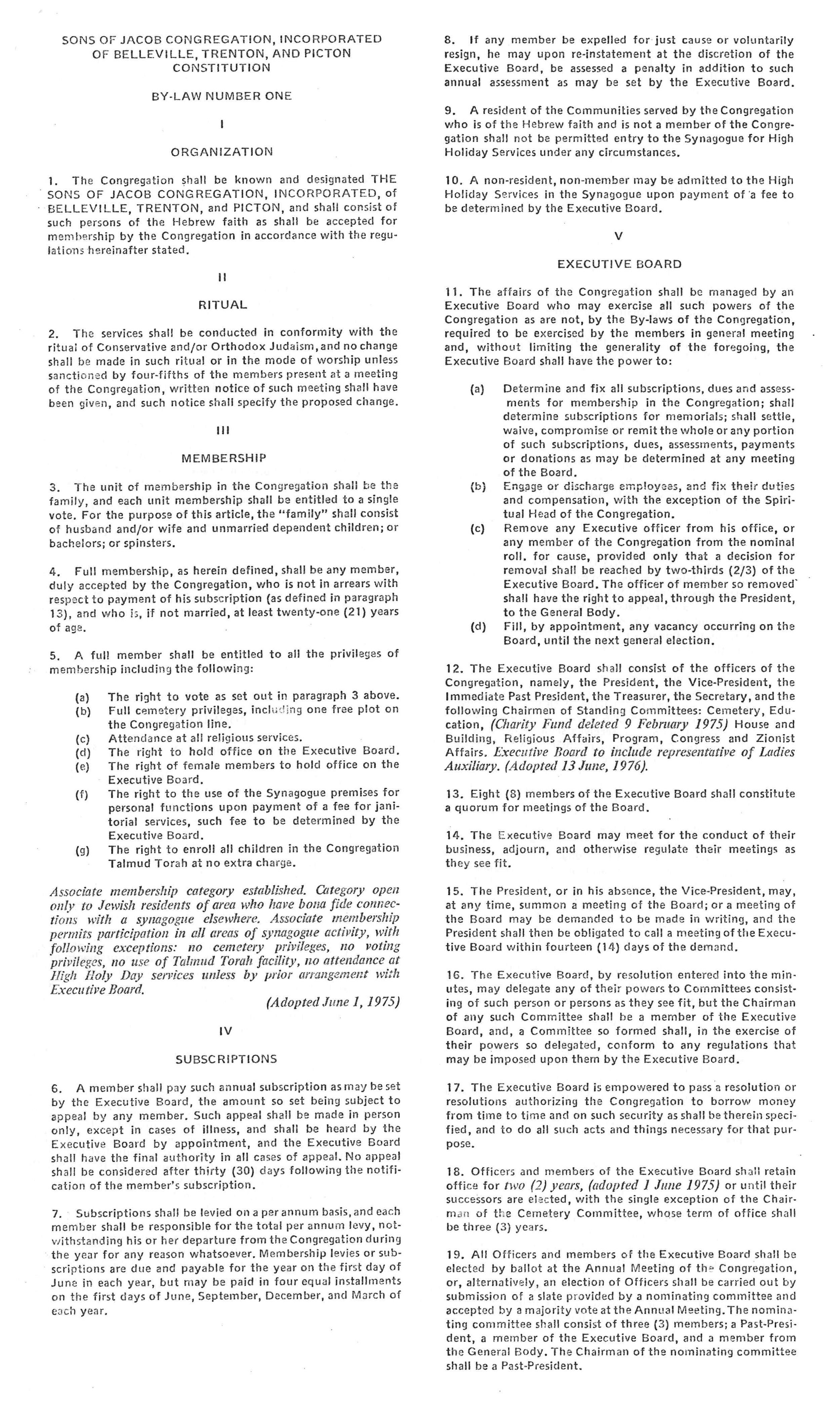 In February, Mike Jourard donated records documenting Belleville's Sons of Jacob Congregation. The records had belonged to Mike's parents, both of whom were active in the congregation (Mike's mother was the secretary for a time). Included in the accession are meeting minutes, handwritten notes, and a copy of the constitution (shown here). According to its website, the congregation has approximately sixty members who hail from Belleville, Trenton, and nearby; in addition, services are sometimes attended by non-members, who are also welcome. And while the constitution specifies that "services shall be conducted in conformity with the ritual of Conservative and/or Orthodox Judaism," the presence of members from a variety of Jewish backgrounds means that services are conducted in both English and Hebrew according to multiple traditions. The OJA is pleased to acquire these records, not only because synagogues are an important centre of Jewish life but because Belleville is a city for which the OJA would like to have more documentation.
January 2021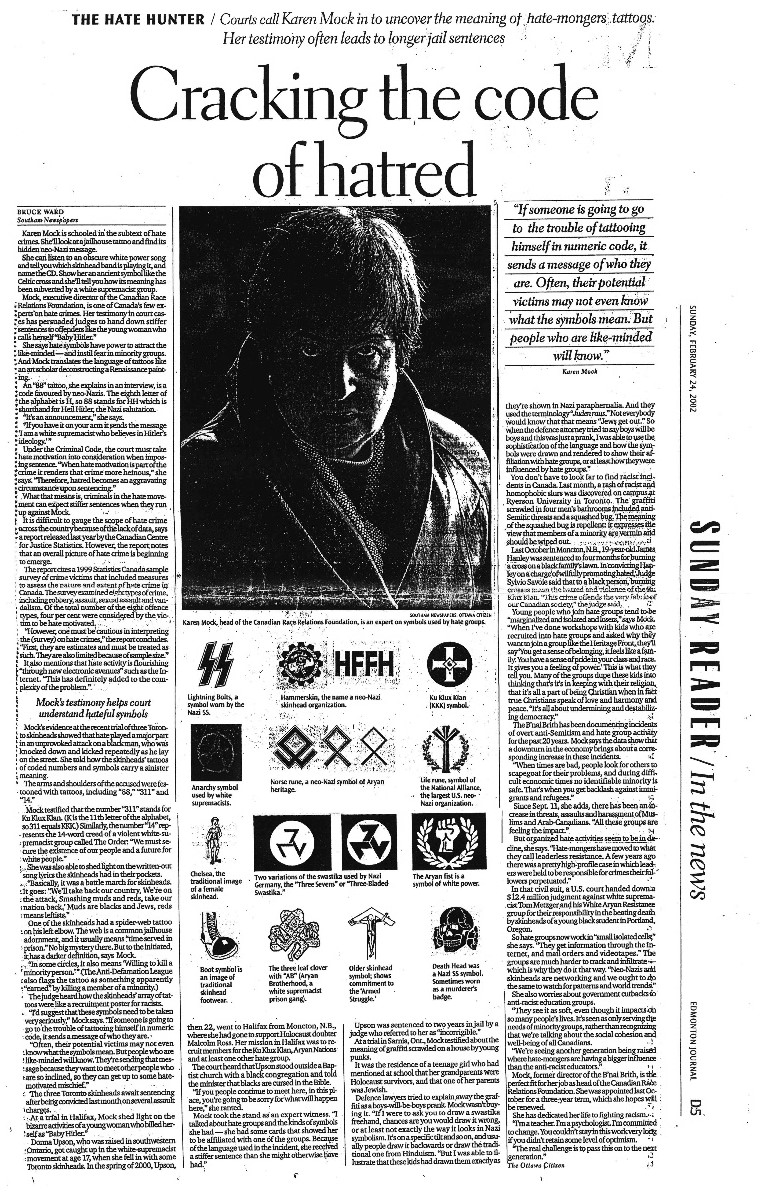 According to University College's Alumni of Honour webpage, "Karen Mock is an educator, psychologist and human rights consultant, specializing in equity and diversity issues and intercultural/interfaith dialogue." In January, the OJA received two donations of material documenting, among other topics, Karen's involvement with the UN World Conference Against Racism and the International Jewish Caucus. In addition to more public-facing materials such as these, the acessions include photographs and negatives documenting Karen's family. As well as being a founding member of multiple social justice organizations such as the Antiracist Multiculturalism Network of Ontario, Karen serves on the board of the Canadian Peres Centre for Peace and JSpaceCanada. The latter describes itself as "one-stop-shop for discussions around social justice, peace, and civil rights, both in Israel and Canada." The OJA hopes to receive more records in the future documenting Karen's varied activities.