2019 Acquisitions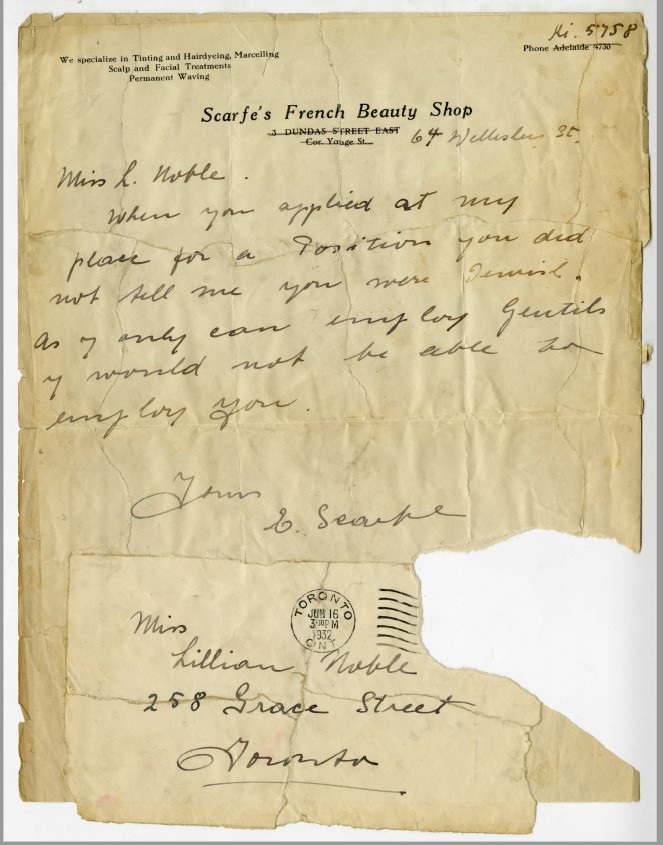 In January, Linda Martin, daughter of the late Philip Martin, donated two items that had belonged to her father to the OJA. One of those items was a letter, found inside an old high school yearbook, addressed to one Lillian Noble by the proprietor of Scarfe's French Beauty Shop in Toronto. The proprietor explains that he is unable to extend an offer of employment to Lillian on the grounds that she is Jewish—a fact she had neglected to mention to her potential employer.
The matter-of-fact tone of the letter and the unashamed manner in which its author expresses their prejudice affords an example of the genteel antisemitism that was pervasive in Toronto at the time. Unforunately, we do not know how Philip came into possession of the letter. His daughter explained that he kept a scrapbook of articles pertaining to antisemitism, both at home and in Nazi Germany, so it is possible he acquired it in that capacity. Whatever the case may be, the letter complements the OJA's existing documentation of antisemitism that is preserved in the Community Relations Committee series of the Canadian Jewish Congress, Ontario Region fonds, as well as in other collections.
Other Acquisitions
Kurtz-Cohen family. Ellen Kurtz-Cohen made two donations of records in December. The records document the different branches of her family including the Kurtz and Tepperman branches. Included are business records for her grandfather Anshel Tepperman's fur store, Tepperman Fur Co.
Lagover Mutual Benefit Society. Frances Jacobson, the recording secretary of the Lagover Mutual Benefit Society, donated the society's meeting minutes for the years 1995-2017. While meeting minutes might not seem like they make for exciting reading, they are a valuable primary source for historians looking to piece together the history of an organization.
Sidney Freedman. This accession consists of textual records, including printed email correspondence, that touch upon Sidney's role as founder of the Toronto Hebrew Memorial Parks.
Singer family. Documented in this accession are two generations of the Singer family including Louis Michael Singer, K.C., Toronto's second Jewish alderman; Dr. Bessie Thelma Singer (née Pullan), an early female admitee to the College of Physicians and Surgeons of Ontario; and Burrell Milton Singer, Q.C.