2018 Acquisitions
In August, Toronto-based photographer Victor Helfand donated his Women of the Bimah series of photographs to the OJA. The idea for the project came after Helfand, who did not grow up seeing women occupying a prominent place in the synagogue, saw a female friend serving as a gabbai. The photographs feature Jewish women in strong poses at the bimah.
The accession, which includes 17 prints, is made up primary of digital records. The total size of the latter comes out to 118 GB, although that number may be brought down slightly once the selection process is complete. Together, these records, digital and print alike, provide a glimpse into the religious lives of Jewish women, a subject that until now has not been particularly well-documented in the OJA's collections.
Kevin McBean. The McBean accession consists of 81 digital photographs of the Jewish Workmen's Circle Colony in Ajax sometime in May 2016. The photographs show the property in various stages of decay before it was bulldozed for a suburban housing development.
Netivot HaTorah. Accession consists of records of the Thornhill-based Jewish day school. Included are administrative records, photographs, DVDs, architectural drawings, blueprints, and much else.
Nirenberg family. Melissa Nirenberg, the granddaughter of Yiddish folk singer Mariam Nirenberg, donated four folders of textual records and photographs of the Nirenberg family, including photographs of her grandmother. Melissa intends this accession to be the first of several that will tell the story of the extended Nirenberg family.
J.B. Salsberg. The niece of the late J. B. Salsberg has donated more records documenting the left-wing politician, thereby complementing the existing J. B. Salsberg fonds. Because archives are organized by creator (provenance), the accession will eventually be integrated into said fonds.
Workmen's Circle (Hamilton, Ont.). Jeffrey Levinn of New York donated a rare photograph of the Hamilton branch of the Workmen's Circle. The photograph, which was taken in 1939, depicts the membership of the left-wing group on the occassion of its thirtieth anniversary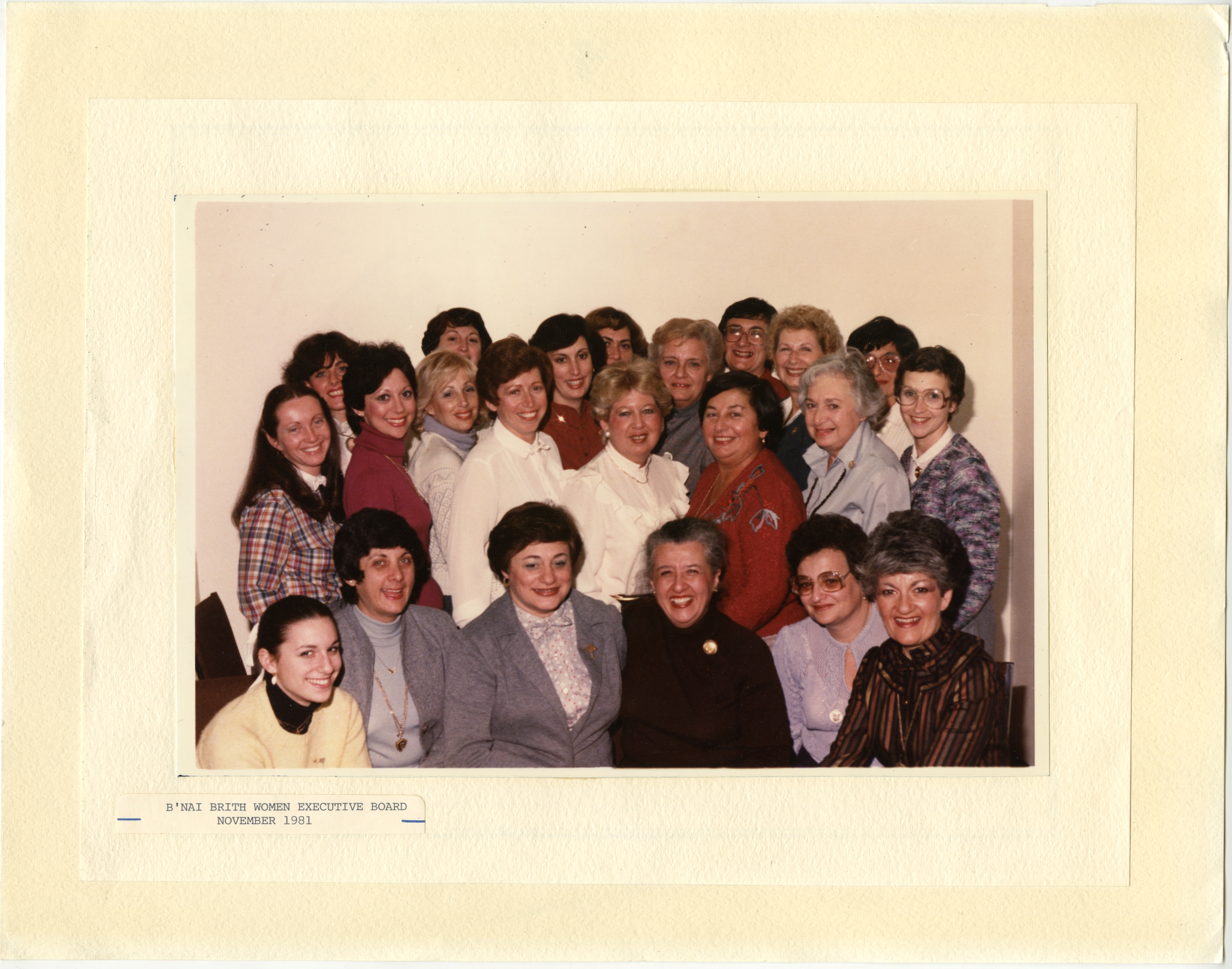 In July, Act to End Violence Against Womenannounced that it was folding operations. While the organization itself will be sorely missed in the community, its story will live on through its records, which were acquired by the OJA that same month.
This is not the first donation of records the OJA has received from the organization: Previously, the OJA had acquired records from the organization in 2011, when it was known as Jewish Women International of Canada. Once the new records have been processed, they will become part of the Act to End Violence Against Women fonds.
Cantor Harold Klein. This accession contains sound recordings, sheet music, and other textual records for the late cantor.
Teme Kernerman. This accession consists of material documenting Teme's long-standing involvement in the Israeli Dance Festival and other dance-related activities.
Lilian Rosenthal. This accession consists of forty-seven photographs documenting Lilian's family, including her parents, Miriam and William Rosenthal, the original owners of Miriam's Judaica.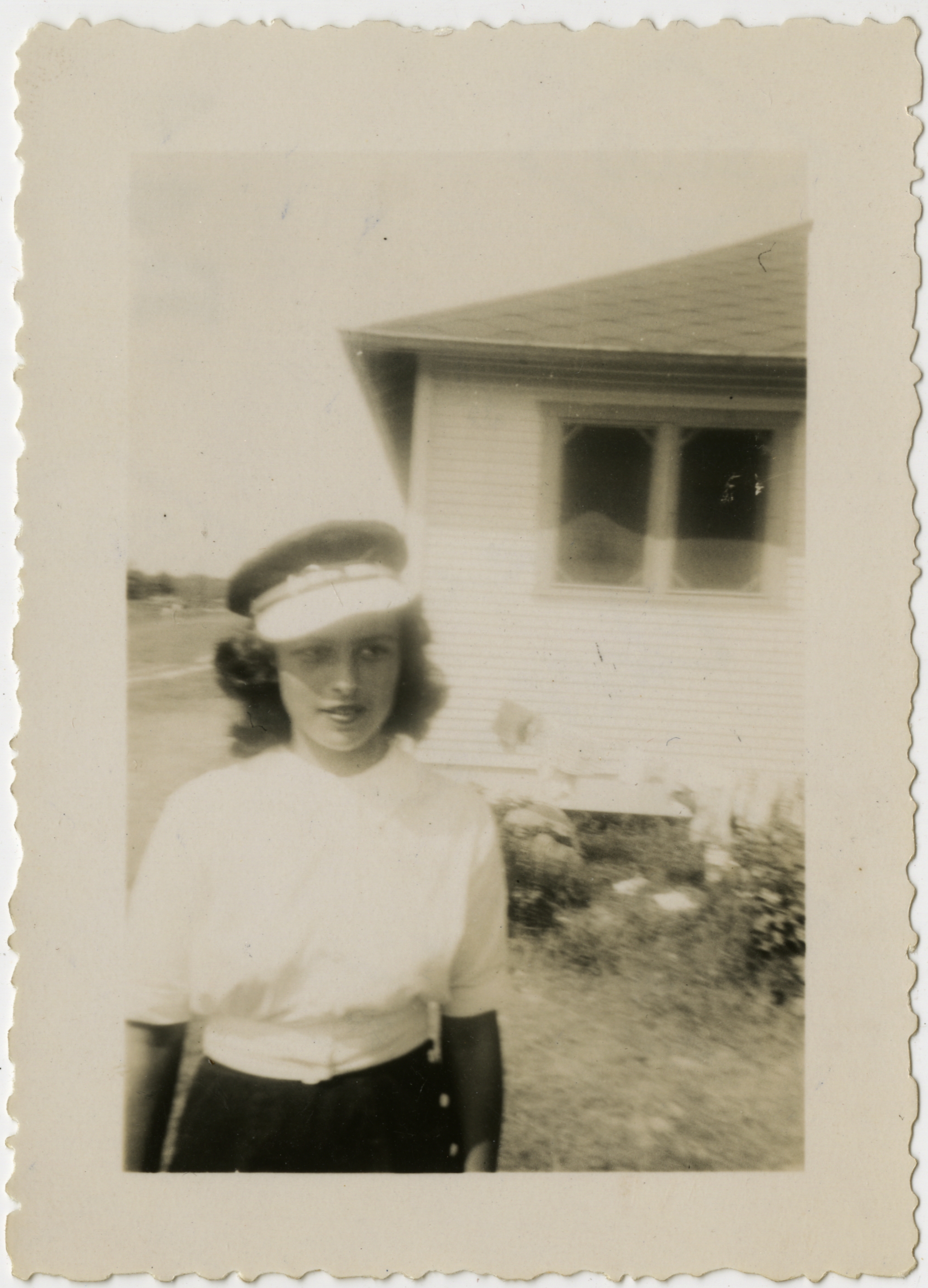 In June, Lisa Rose, daughter of Marcia Rose (left), donated her mother's collection of photographs of Balfour Manor Camp. Named after British foreign secretary Arthur James Balfour, the camp was situated on Morrison Lake and offered a range of activities to Jewish youth including canoeing, swimming and tennis. Founded by Irene Granovsky in 1935, it closed in 1952.
What makes this collection so valuable is the fact that Marcia provided identification for almost every one of the seventy-nine photographs. Marcia even identified the camp's horse: Seabiscuit. The fact that most individuals are identified makes this collection a valuable resource for academics researching the history of Balfour Manor Camp as well as genealogists looking for photographs of family who might have attended the camp.
Dr. John E. Ackerman. Following on the successful exhibition highlighting the photography of Dr. John E. Ackerman, this most recent acquisition includes the remaining negatives and slides from his large collection.
Miriam Beckerman. This accession consisting of letters and photographs relating to Miriam and her husband's experiences in Mandatory Palestine and later Israel. A highlight is a letter written by Miriam in January 1948, in which she briefly describes the mood prevailing Tel Aviv.
Congregation BINA. This accession consists of the complete operational records of this Indo-Canadian congregation beginning with its founding in 1891.
Sen. David Croll. This accession includes photographs and scrapbooks related to the political life and work of one of Canada's most notable Jewish politicians. Also included are records related to Sen. Croll's distinguished military career.
Hazza family. This accession consists of material documenting the Hazza family. A highlight is the documentation regarding the Flea-Free Pet Comb, which was patented by John Hazza and Sidney Marcus and promoted at the CNE.
Sharoni Sibony. This accession consists of material documenting Sharoni's involvement with Limmud Toronto. Sharoni served as Limmud Toronto's festival chair from 2008-2009.
Cyrel Troster. This accession consists of material documenting Cyrel's involvement in different Jewish organizations in Toronto. Of special significance are the interview transcripts with prominent Jewish Torontonians that were generated as part of an oral history project in 1973.
Toronto Grand Order of Israel. This accession consists of material documenting the fraternal organization. Highlights include eight oath books and a composite group photograph.