Donate
For over forty-five years, the OJA has been collecting, preserving and sharing our community's history. In our collection are thousands of stories that can teach us about our pasts. Whether your family has roots in Kensington Market, survived the Holocaust and started a new life in Ontario, or is involved with a shul or a Hebrew Day School; the OJA is committed to preserving these stories and others. By caring for our past, we can better understand our future.

We hope that you will consider supporting the OJA this year with a tax-receiptable donation. Your contribution will allow us to continue the great work that we do and to collect and share even more of our community's history.
The OJA's work is enriched through the strong support we receive from community members and organizations. See below for other ways you can contribute to the Ontario Jewish Archives, Blankenstein Family Heritage Centre.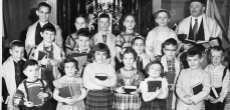 Our collection is built upon material from private individuals, organizations, and businesses. Learn if your records are a right fit for the OJA and how to prepare them for donation.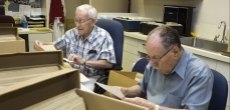 The OJA relies on a team of wonderfully committed volunteers and interns. Discover what opportunities might be a good match for you at the OJA.