Staff and Board of Directors
Dara Solomon, Executive Director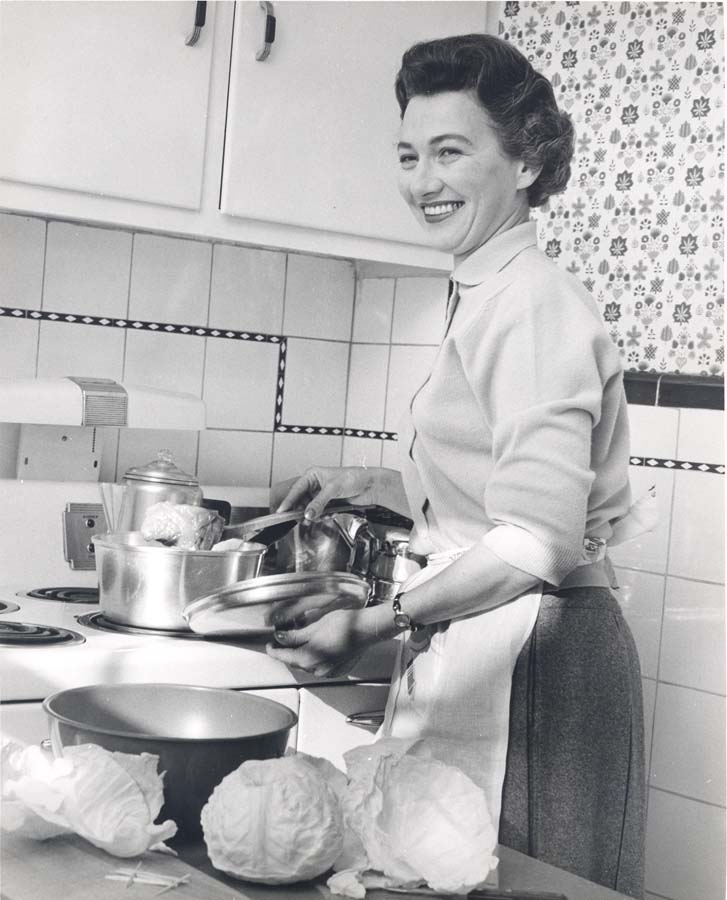 One of my favourite photos is of Mimi Wise cooking cabbage rolls. A Toronto gal, Wise was born in 1920 and initially lived across from the Woodbine Racetrack in the east end, and later moved to the Christie/Davenport area. She was involved in a variety of Jewish and non-Jewish organizations and was especially known for her years of commitment to Hadassah-Wizo. Mimi graduated from physiotherapy at University of Toronto in 1942 and married Dr. Sydney Wise, a long time volunteer to the OJA. We can all relate to this photo of Mimi serving cabbage rolls in her tiled kitchen. The now classic dish—a throwback to the old country—in a completely 1950s setting. Mimi reminds me of my late Bubby Rita (nee Atkins) Kokotow (1918-1999), also a lifelong member of Hadassah.
Mimi Wise cooking cabbage rolls, 1959. Ontario Jewish Archives, fonds 16, item 7.
Donna Bernardo-Ceriz, Managing Director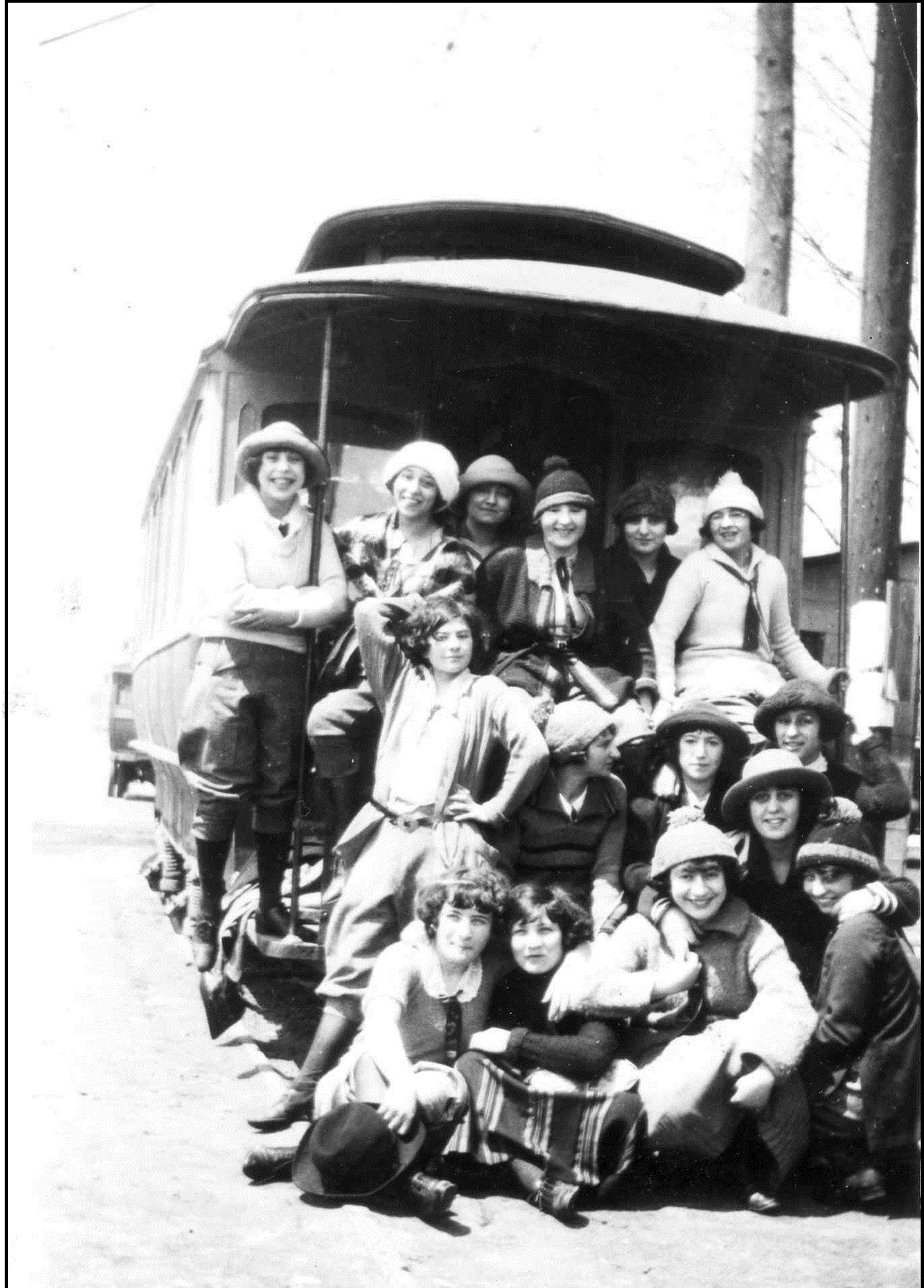 I have always been drawn to this striking image of the Adelaide Girls on an outing in Toronto from the mid 1920s. For me, this photograph so effortlessly captures the giddy tone of the 1920s, before the weight of the Great Depression and the horrors of the Holocaust came to bear down upon the world. I'm not entirely sure where it was taken; it could be an outing at Stop 17, a popular picnic stop in Thornhill served by an electrically powered rail line called the Radial.
Adelaide Girls' Group outing, Toronto [graphic material]. -- [1926 or 1927]. Ontario Jewish Archives, photo 1879.


Melissa Caza, Archivist
Dr. A. Willinsky's family films have a bit of everything: early Toronto footage (1920s-1930s), a professional quality, and a playful family that "hammed" it up. My favourite scenes include a Seder, playtime at the cottage, and a picnic by the Bloor Viaduct. Willinsky even experiments with the new film technology by using techniques such as double exposure. The films are so much fun to watch!
Dr. A.I. Willinsky fonds, [ca. 1928]-[ca. 1956]. Ontario Jewish Archives, fonds 81.
Faye Blum, Assistant Archivist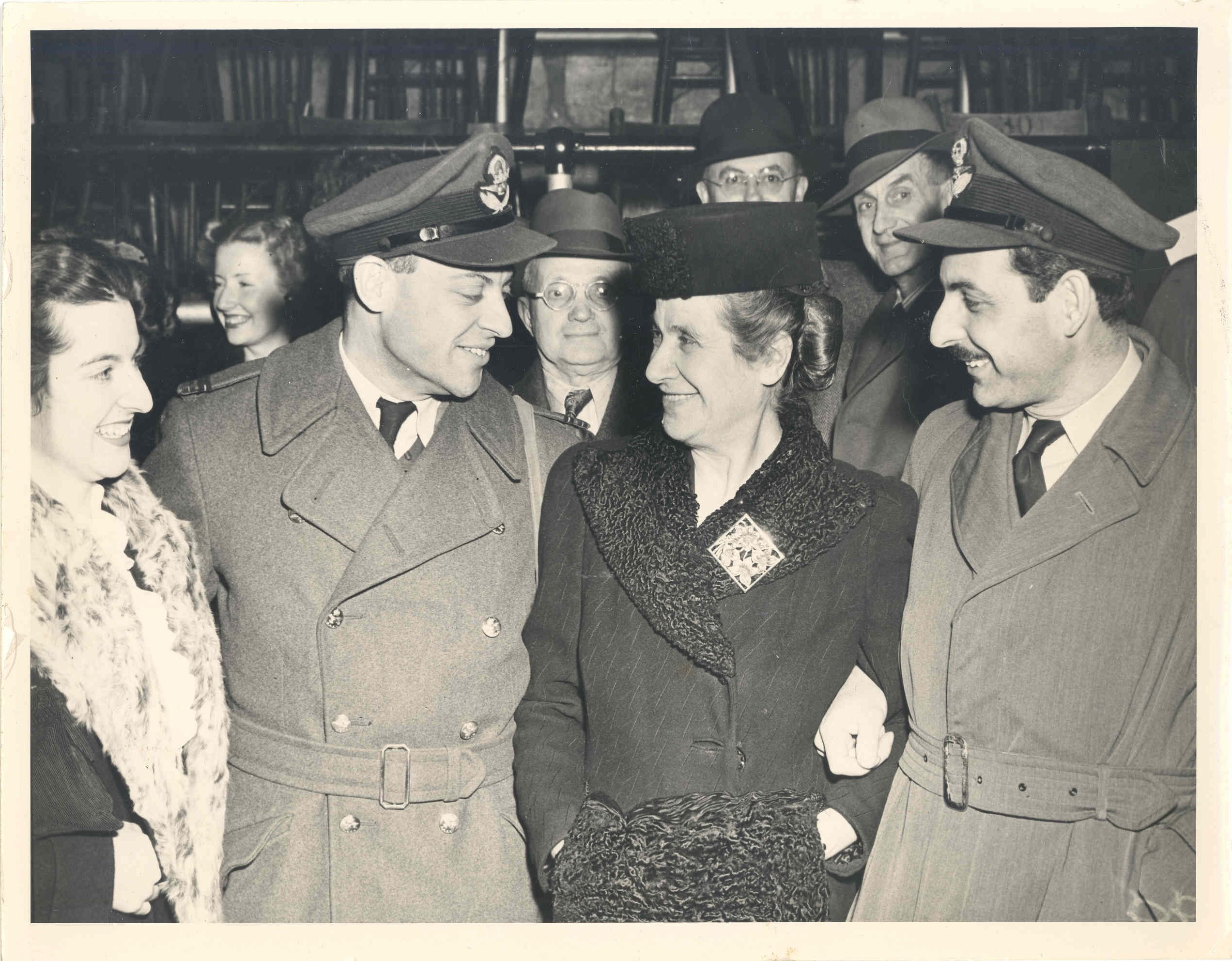 "It's a Wonderful Life". When I first saw this photo, it reminded me of the concluding scene in Frank Capra's Hollywood classic. The narrative is clear and no captioning is required, a jubilant family reunion at the conclusion of a fierce and devastating war. The fashion sense of the women in the foreground added a splash of glamour to what appears to be a professional publicity still rather than a family snapshot. The candidness of their facial expressions are so pure that each time I see this photo I feel myself joining in their celebration. Our stories are indeed your stories.
Ida Siegel with her children Rivka (far left) and returning Canadian servicemen Avrom (left) and David (right), Toronto, Dec. 1945. Ontario Jewish Archives, Blankenstein Family Heritage Centre, fonds 15, file 37, item 9.
OJA Board of Directors
Eric Slavens (Chair)
Larry Blankenstein
Judith Ghert
Bonnie Goldstein
Edwin Goldstein
David Matlow
Hadassa Pertman
Brooky Robins
Penny Rubinoff
Jackie Shulman
Shoel Silver
Cyrel Troster