The Beth Israel Anshei Minsk congregation, also known as the "Minsker", was the first synagogue formed in the Kensington Market area. Although many Jews lived in the Ward at this time, most of the Minsk 's founding members had settled in the Kensington area. Established in 1912, in a typical shtibel

, the congregation followed the particular Jewish traditions that were practiced in Minsk , since most of the members were landsmen

from Russia who arrived in Canada at the turn of the century. In 1913, the Minsk had about 50 members. Few records exist from these early years, but it appears as if the shul was first located across the street from its current location at 10-12 St. Andrews Street .
The current lot on St. Andrews had two narrow houses on it, which were purchased in 1913 for $9000. Zalman Zaldin and Abraham Trachtinberg, two early members, were listed in the Minsk 's 1913 ledger with the addresses of 10 and 12 St. Andrews Street respectively. They may have initiated the idea of buying the properties for the synagogue. Land records show that the lot was managed by Moshe Eaton, another early member. Tenants numbering 14 occupants at one point rented some of the shul's

space as well. By 1923, only the seventy-year-old caretaker, Soloman Helpert, lived there. Two years later, the congregation had sufficient funds to use the houses solely as a synagogue.
Around this time, the Ladies Auxilary began fundraising for a new building. The late 1920s and early 1930s saw the congregation mortgage the property to help fund the construction of a new building designed by the architectural firm Kaplan & Sprachman. By the end of 1930, the current building was complete. Members of the synagogue, including the Executive and the Ladies Auxiliary, contributed their time and money to the shul

. The constitution, drafted in 1930, details the Minsk 's policies regarding membership dues as well as the sale of seats and cemetery plots to raise funds for the synagogue.
Athough Rabbi Meyer Levy served the shul between 1916 and 1922 -- at which time he moved to the Chestnut Street synagogue -- the congregation, for the most part, had no rabbi. Cantor Glick, however, led the prayer services. The president or the shames

of the Minsk took on leadership roles for the shul. Members also formed a Chevra Kadisha

to ensure that the dead were buried according to Jewish law.
Many of the early members of the Minsk remained active for decades thereafter. Names like Meslin, Zeldin, Shankman, Sherman , Kasakov, Gold, Slotsky, Jackson , Lottman, and Bloom appear in both the Executive and the Ladies Auxiliary minute books and members' lists throughout the Minsk 's history. Many of their children also became involved. Even today, some of the founders' descendants continue their family's involvement with the Minsker by attending High Holiday services.
NEXT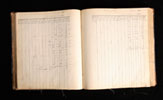 Ledger of member accounts, 1913-14.


Membership dues lists for 1934 and 1945.


Membership dues lists for 1934 and 1945.


Photo of Abraham Layefsky, July 14, 1917.


Rose Shankman fundraising for the Minsk , 1930.


Menachem Mendel Hyman on St. Andrews Street around 1921.

Constitution of the Beth Israel Men of Minsk , 1930.

Marble plaque in the Minsk lobby honouring the Executive and male members, 1931.