If the Beach Hebrew Institute was the centre of Jewish life in the Beach area during the 1920s and 1930s, then the Sisterhood played a leading role in developing a rich social life for the community. The Sisterhood has gone by several names, including the Beach Ladies' Auxiliary and the Beaches Sisterhood. Mrs. Elizabeth Schwartz, who served as President for the first ten years, founded the Auxiliary in the early 1920s. The ladies held regular meetings, card games and teas at the synagogue, and also organized very successful amateur nights, lectures, socials and dances. These special events were always well-attended. In 1933, for example, the Beach synagogue's first annual 'Frolic' drew more than three hundred guests.
The Sisterhood also devoted themselves to the congregation's children, hosting Purim parties and Passover Seders and baking special fare for these events. They also supplied the Hebrew school students with chocolate milk during their afternoon lessons and presented gifts to boys on their bar-mitzvahs

.
While the ladies fostered the synagogue's social life, the synagogue Executive took care of its financial, religious and legal obligations. The first members of the Executive, during the 1920s and 1930s included Hyman Mehr, Julius Shaloff, Maurice Wolfe and Asher Pritzker. The Auxiliary partnered with the synagogue Executive to arrange special events. For example, they held a grand banquet in January 1927 to reopen the synagogue after the renovations were completed. Maurice Wolfe, who owned the Ontario Produce Company, donated fruit and vegetables, while Mrs. Abel purchased the rest of the food and supplies. The dinner brought in over $2000 to fund the renovations.
With the second wave of Jewish migration to the Beach area in the late 1940s, the Sisterhood was reborn. It had been disbanded in the late 1930s, as many of the synagogue's members moved back downtown. Under the leadership of Mrs. Marshall, the Sisterhood welcomed back old members, cleaned up the building, and again started to host social events and fundraisers.
Later, in the early 1950s, a brotherhood was founded. The Brotherhood began to solicit membership, help organize social events and maintain the synagogue. Together with the Sisterhood, they installed a new furnace, repainted parts of the building and purchased new parochets

and Torah covers.
Unfortunately, as more and more Jews left the Beach area in the 1960s, Jewish social activities dropped off once again. The membership grew too small to sustain the Brotherhood and Sisterhood, and the shul abandoned most of its social activities until later years.
NEXT



Zelda Cohen dressed in Purim costume, 1930s.


Gold Crown Certificate, 1936.


Constitution of the Beth Jacob Sisterhood, 1957.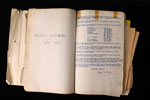 Minutes of the Beaches Sisterhood, 1949-1963.


Sisterhood List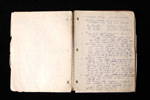 Brotherhood minute book, 1960-1965.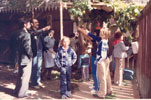 Celebrating Sukkot, 1981.


VIDEO CLIP: Ruth Zaltz discusses social gatherings at the Beach Hebrew Institute